Introduction To The 5 Dynamics Of A Debrief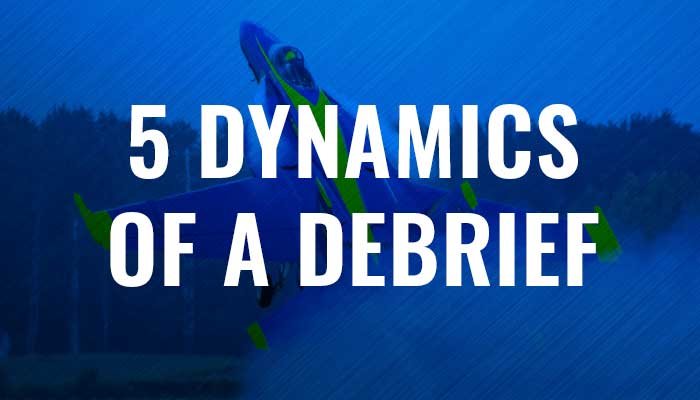 How do you get the best from your team? Are your leadership training methods tried and tested, or could you use some new tips and techniques?
This is a difficult thing to get right as no team dynamic is the same. As your team changes and evolves, so should your training and communication.
Because of this ever-evolving process, continuous leadership training is key to moving forward together.
Any team, organization, or business needs sound leadership training, you just need to find the right one that suits you.
The Glad To Be Here Movement focuses on the all-important debrief, a 5 step program that John used when flying with The Blue Angels.
We've created a series of useful blogs that break down the whole process so that you can use it as a blueprint for your own leadership training.
What Is A Debrief?
The Blue Angels have perfected the art of continuous improvement, connection, and team chemistry. Their process involves 3 steps:
The Brief Meeting – Aligning goals and expectations
Execution – Performing a task at the highest level
The Debrief Meeting – Assessment, feedback, and steps towards improvement.
A constructive debrief is essential for a team to succeed. It creates a safe space for productive communication. And you'll find that it's totally different from those stale meetings that some managers hold simply so they can tick a few boxes.
It's an opportunity for participants to have open and honest discussions without fear. It also allows members to take stock and look over what's working, what isn't, and anything that might need to change.
It's not just essential to your team but also for individual growth and group dynamics.
The 5 Dynamics
There are 5 fundamental dynamics to a debrief:
Safe Environment – Creating a safe environment will result in mutual respect
Check Your Ego – Focusing on humility and how important this is for growth
Lay It On The Table – This is the ability to discuss everything openly and honestly
Own It & Fix It – Accountability minus any blame
Glad To Be Here – Looking back and focusing entirely on the gratitude for every opportunity!
The debrief is an essential concept for The Glad To Be Here Movement. It keeps a team connected and helps them to perform at their best at all times.
How Can These Dynamics Benefit Your Team?
The debrief was the core to the success of the Blue Angels, but what does it have to do with leadership in business?
You can use the lessons and techniques for leadership training within your organization and improve and grow your team toward high performance and success.
A regular debrief is key to this; you should do it consistently even when things are going well. When clear communication becomes the norm, your team can speak freely and constructively.
Want To Find Out More?
Would a debrief help transform your team? Read this series of blogs to learn everything you need to know about the 5 dynamics of a debrief.
You'll discover practical performance exercises to use in your leadership training throughout the series and every blog takes a deep dive into each of the 5 dynamics.
The first focuses on creating a safe environment for open communication. You can read the series here.
Need help implementing these strategies with your team? Contact us today!