5 Dynamics Of A Debrief – Lesson 1 – Creating A Safe Environment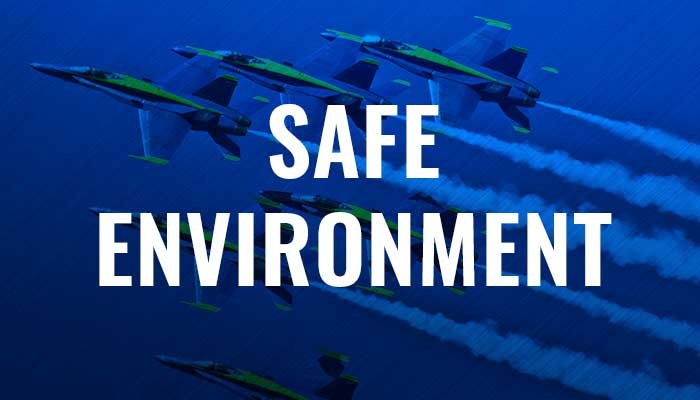 The debrief is an essential concept for The Glad To Be Here Movement, and John should know. He often speaks about how important the debrief was when he was flying with the Blue Angels.
But what does a debrief have to do with leadership in business? You're not a pilot. You're not in the military. Can a debrief really help you?
Yes. Here's why…
The debrief was absolutely essential to the Blue Angels' success, and it increased their trust in one another substantially. Trust was vital when they were up in the air together flying through many dangerous situations -and it's essential in any situation when you're working as part of a team.
There are 5 fundamental dynamics to a debrief and they are as follows:
Safe Environment – Creating a safe environment will result in mutual respect
Check Your Ego – Focusing on humility and how important this is for growth
Lay It On The Table – This is the ability to discuss everything openly and honestly
Own It & Fix It – Accountability minus any blame
Glad To Be Here – Looking back and being able to focus entirely on the gratitude of being here!
Every single one is important and can be used as a tool for continuous improvement. Throughout this particular blog, the focus will be on the very first dynamic: a safe environment.
Safe Environment
A safe environment isn't just about physical safety, although this is extremely important. The safe environment in a debrief focuses on psychological safety.
Psychological safety allows people to speak up. They feel safe to say important things that matter. But they must also feel safe that their words won't be held against them when they do speak out.
Accountability should never lead to blame; opinions should always be respected, and the best way to instill respect is with a safe environment.
It's a difficult balance to get right, but the goal should be for your team members to feel that level of safety at all times.
How To Create A Safe Environment
The first step to achieving this safe environment is to ask your team if they feel safe.
It's so simple, isn't it?
But remember, asking face-to-face won't always get accurate answers. To get the most honest responses, you should allow them a safe space to answer the question anonymously.
This will give them the respect and space needed to answer you without fear of repercussions, and the answers given will benefit you and your team more.
The kind of questions you should ask is: do you feel safe? What would help you feel safer? What/who is potentially preventing you from feeling safe?
Use their answers to enact positive change.
Safety Should Be The Core Of A Strong Team
A safe environment is the core of any high-performing team.
When safe, team members are free to be themselves, they can talk about what's bothering them, what's going wrong, what's going right, and everything in between. The team is often happier and feels valued and more appreciated in this situation.
When a team feels safe, it will lead to honest communication and the ability to lay it all on the table.
Laying it all on the table is the third dynamic of the debrief. Getting to that stage is essential because it allows any issues to be spoken about honestly, without judgment, to lead to a resolution. You won't get there without a safe environment.
When you know you've got a high level of trust, you're well on the way to becoming a high-performing team.
Lead From The Front
For a safe environment to flourish, you'll need to get your whole team on board. The best way to do this is to lead from the front.
If you're the leader, then you have to show your team how it's done. It's down to you to demonstrate this mentality at all times.
Everything about the 5 dynamics starts with leaders. Once you've created a safe environment, you're well on your way to becoming a high-performance team.
Want to learn more about the 5 dynamics of a debrief? Check out our blog series here…