The Super Bowl All-Female Flyover — Fifty Years of Celebration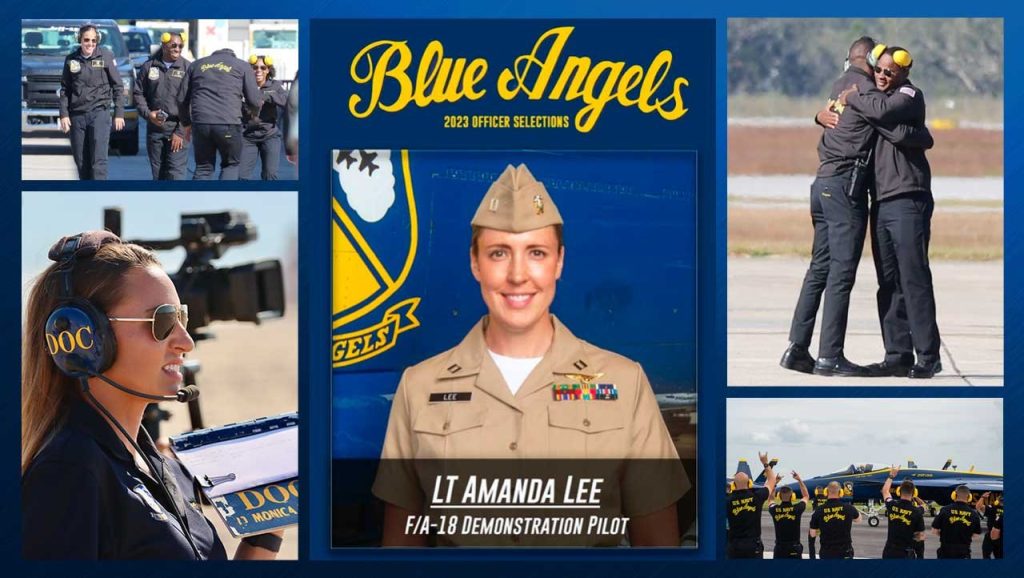 Since 1971, the Super Bowl has featured a traditional military flyover during the national anthem. Over the years, they've used a variety of different aircraft and pilots.
The flyover serves as a tribute to those in uniform who protect our country. It's a highlight to many and showcases the talent within naval aviation.
2023 marks fifty years of women serving in naval aviation, and to celebrate this historical event, the Super Bowl included its first-ever all-female flyover.
Who Are The Pilots?
An elite team of four female pilots orchestrated the famous diamond formation ahead of the game. These exceptional pilots were: Lt. Margaret Dente, Lt. Catie Perkowski, Lt. Suzelle Thomas, and Lt. Jacqui Drew.
Every member of the team exemplifies the Glad to Be Here® Mindset.
Between them, they have amassed a total of 3,252 flying hours, catapulting them into one of the most impressive high-performance teams!
Lt. Margaret Dente
Dente grew up wanting to fly, just like her father and grandfather. Nothing compares to flying jets for her, and she considers it a privilege to serve alongside the country's finest pilots.
Lt. Catie Perkowski
Perkowski is proud of the opportunity to fly and defend her country. She is motivated every day by her family, her fellow pilots, and the trailblazers that came before her.
Lt. Suzelle Thomas
The best part of the Navy for Thomas is the camaraderie of the team. She admires the people she works with and feels truly blessed by her career.
Lt. Jacqui Drew
Drew describes flying for the navy as a privilege that is constantly challenging. The Navy has provided the opportunity to meet people from diverse backgrounds and establish long-term relationships. It's never lost on her how unique it is to fly – being a pilot is one of the coolest ways to spend a day at the office.
Fifty Years To Celebrate
This year's milestone accentuates our naval aviation history and pays tribute to all the female pilots.
It's not been an easy ride to get to where we are now, and it's down to the grit and determination of these women.
In 1973, eight women enrolled at flight school in Pensacola. They were the very first female cohort and were selected to take part in a test program designed to train female pilots and manage the pilot shortage.
A year later, six of these women earned their Wings of Gold.
The six fearlessly entered into a male-dominated industry, a place that many believed inappropriate for a woman.
These women pushed back again and demonstrated their strength and perseverance proving their capablility to fly with the best of the best.
The first six paved the way for so many other women to excel and serve as Navy fighter pilots, and here are just a few of those exceptional women that have served during the last fifty years.
Barbara Allen
Lt. Barbara Allen Rainey was the first woman to qualify as a US Naval Aviator when she earned her Wings of Gold in 1974. She was among the first six female aviators to qualify as jet pilots.
She flew until her death in 1982, at only 33 years old. Allen left behind a lasting legacy, and her achievements paved the way for future female aviators.
Brenda Robinson
Lieutenant Commander Brenda Robinson is the first black woman to earn her Wings of Gold as a naval aviator and was inducted into the Women in Aviation International Pioneer Hall of Fame. She retired after twenty years of service, and in 2014 she founded the Aviation Camp as a way to encourage the next generation of kids into careers in aviation.
Sara Joyner
Vice Admiral Sara Joyner is the first female strike fighter pilot to command a Navy fighter squadron and a carrier air wing. She is Chief of Legislative Affairs for the US Navy and, in 2022, was promoted to Vice Admiral.
Katie Cook
Major Katie Cook is a third-generation military aviator. Her father was an F-18 fighter pilot in the Navy, and her grandfather served during World War II, in Korea, and Vietnam.
Cook was one of the few female Marine aviators to fly in Afghanistan during Operation Enduring Freedom. She flew for two years with the Blue Angels and is proud to be a part of the women serving and defending our country.
Madeline Swegle
Lt. Madeline Swegle is the US Navy's first black female tactical jet pilot. As a child, she watched the Blue Angels with awe and joined the academy in 2017. Before her training, she had never been in an aircraft and instantly fell in love with the exhilaration of flying.
She excitedly took on the role and opportunity to fly high-performance jet aircraft for her country.
Amanda Lee
Lt. Amanda Lee was announced as one of six new officers joining the Blue Angels team for the 2023 air show season in 2020; she's the first woman to serve as a demonstration pilot.
In 2019, she was part of the first all-female flyover as part of the funeral service for retired Navy Capt. Rosemary Mariner – one of the first six female naval aviators.
How Far We Have Come
Fifty years ago, an all-female flyover at the Super Bowl probably seemed impossible.
Perseverance, diligence, and a desire for change made the seemingly impossible, possible.
What feels impossible to you? Because where there is a will…