5 Dynamics Of A Debrief – Lesson 4 – Own It & Fix It – Accountability Minus The Blame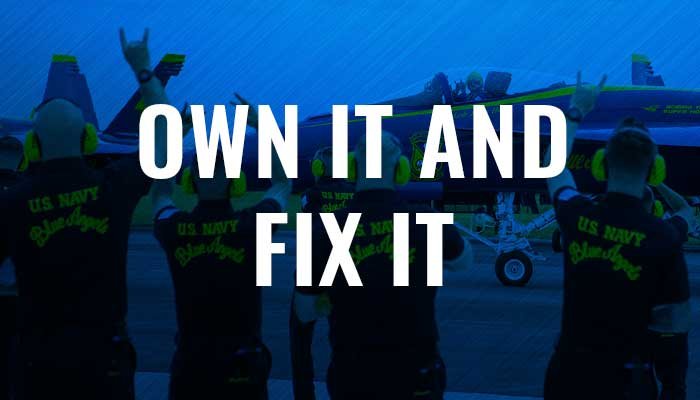 The Glad To Be Here Debrief is essential for a successful team. It allows you to communicate openly, take stock, and look over what's working (and what isn't), as well as anything that you might need to change.
It's not just important to your team, but it's vitally important for individual growth and group morale too.
A debrief has 5 fundamental dynamics, and during this blog series, we're going to analyze the 5 key themes:
Safe Environment – A safe environment will result in mutual respect.
Check Your Ego – Focusing on humility and the importance of this for growth.
Lay It On The Table – This is the ability to discuss everything openly and honestly.
Own It & Fix It – Accountability minus any blame.
Glad To Be Here – Looking back and being able to focus entirely on the gratitude of being here!
These 5 dynamics are essential tools for continuous improvement. Use this knowledge to execute effective debriefing meetings and get the very best out of your team.
The fourth dynamic and the focus of this blog is accountability.
Accountability
What do you think about when you hear accountability? It's usually associated with liability and blame.
The Glad To Be Here Debrief isn't about assigning blame, though, so the focus should be on personal responsibility and ownership.
This mentality comes from within and is driven by mutual respect for oneself and one's teammates. Striving for the best and not wanting to let anyone down.
The notion of accountability grabs attention, but you'll notice when watching a high-performance team during a debrief that they own it when they're off their game. And more importantly, they strive to fix it.
Personal Responsibility Breeds Ownership
During a typical Blue Angel debrief, everyone took responsibility when they were off. They weren't afraid to acknowledge it, and crucially they pledged to fix it.
It's a positive action that makes it more about personal responsibility as opposed to accountability. When a team succeeds, every individual on that team succeeds together. Victories and failures become common property, and when that becomes true for your team, there is a huge opportunity to increase performance.
During a debrief, it's important to remain open and positive so the whole team can move forward together.
Here are some practical performance exercises that you can do to encourage personal responsibility:
Think through a handful of tasks you completed recently
Ask yourself which tasks did you complete perfectly? Why were they perfect?
Which tasks weren't perfect? What went wrong?
How could I fix those situations in the future?
Fix It
Personal responsibility says I'll fix it, you can count on me.
Accountability points the finger and assigns the blame. The difference in morale is huge.
What's really powerful about an individual stating that they'll fix it is that it sends out a clear message to teammates that you can be counted on.
When you treat your actions with pride and respect, you get more done, and you're more productive. Saying you'll fix it to your teammates sends a powerful message to your brain too. If you hear yourself saying you'll fix it, you're way more likely to actually do it.
Your acknowledgement lets your teammates take that worry off their plates too. They know they don't have to check up on you; you've taken personal responsibility to fix it.
This will save so much time and potential tension within a team.
Ownership is key to the fourth dynamic of the Glad To Be Here Debrief, and if you've got it your team is well on the way to excellence.